Our professional battery replacement business, services all suburbs in the Newcastle Region. We built our business, not by offering the lowest or cheapest prices by compromising the quality of our products, but by sourcing and buying in bulk, quality Australian-Made batteries engineered for our environment and offering them at economical prices to our ever-important customer base.
From the initial call to us, we need to determine first by asking you a few questions, whether you genuinely have a battery problem or if there is another determining factor why your car will not start. In some circumstances, you might have an alternator, starter motor, fuel pump or parasitic drain e.t.c, that is the "root" of the main problem why your vehicle will not start.
Did you know if the battery is replaced without providing a backup power source (car memory keeper), the memory could get altered or erased, which could damage the vehicle's primary computer system and other equipment that is controlled electronically? Rest assured, that our services always ensure that your vehicle's memory codes are safeguarded before the battery is disconnected, (N.B. only possible if upon arrival the cells have sufficient voltage still powering accessories).
With all our mobile car battery replacement bookings, we recommend either the Century Ultra High Performance (36 Month Warranty) and Century High Performance (24 Month Warranty) sealed maintenance-free batteries to suit all type of vehicles. To check out the features and benefits, please click the links, it will give you a better understanding of the engineering that goes behind this Iconic Australian-Made product.
---
Our Recommendation Just For You!
"Let us get you back on the road fast and to your destination!"
Your First Step without delay, please contact our preferred Newcastle Region Mobile Roadside Replacement Service provider Battery World by clicking here.
Your Benefits & Services:
Prompt roadside assistance – testing, replacement and jump-start.
Nil membership required, use as needed, no yearly fee.
Nationwide warranty network.
Professional battery technicians, expertise guaranteed.
Fully insured for your "Peace of mind" that accidental mishaps will not be an issue.
All quoted prices include GST, no nasty surprises upon arriving.
The brand used – Century the Iconic Australian Brand for Australians.
Other areas covered: Lake Macquarie Region – Hunter Valley Region – Central Coast Region
Your Second Step once you have booked in your appointment, or before making a decision, is to keep reading below to learn why choosing our services and Century Australian-Made batteries, is a Wise Choice.
Question!
Do you do daily short distance driving to and from work?
Is your car garaged constantly and not driven often enough?
How can a Ctek Charger make your ever-important Battery last longer? Read More…
---
Please download the "Locally Made – Century Car and Passenger Vehicle" features/benefits summary brochure (please click image)
---
Century Sealed Maintenance Free Design for your convenience – – No need to add water/electrolyte
Exceptional Newcastle Car Battery Replacement Services That Get You From Being "Stranded To Moving" In No Time!
Diagnosing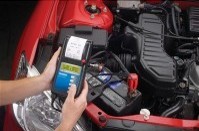 Once we have determined that the battery is the primary cause of why your car is not starting, we will arrange a suitable time for one of our certified mobile battery technicians to come to your place of destination all suburbs throughout the Newcastle Region.
Upon arrival, we carry out a Midtronics battery analyser test to let us know "without a doubt", that your battery is the real culprit behind your vehicle's starting problems.
Preventative measures
Before disconnecting the battery, we apply a "memory minder" to save all your driveability and personalised settings within your vehicle. Please note, in some circumstances where the old battery has wholly deteriorated and discharged, your settings are unable to be saved and will require re-programming.
No need to worry though, if you have your radio security code, and or vehicle that requires re-programming of the battery management system, we will be more than happy to do this for you. NB, the car battery management re-programming incurs an additional fee.
Cleaning and maintenance
We will inspect the surrounding area where your battery lives, including your terminals and cables. If necessary, a "baking soda solution" will be applied to neutralise the acid residue and then wiped-down, or replace accessories if required to ensure your new car battery replacement is in a "healthy environment" to extend its life and start cycles.
Job completion
On completion, we will carry out a further battery and alternator analyser test to ensure your electrical charging system is in perfect working order. A digital print-out is stapled to your invoice for your records. Remember, you also have a Nationwide car battery replacement warranty throughout Australia.
Benefits and convenience
We offer you "free diagnosing, delivery and fitting" Nationwide, and the convenience of paying for our services rendered, through our mobile payment facilities at any location where there is a phone signal. Otherwise, cash will be fine in the event a signal is not available, such as in underground parking or "black-spots." No membership required to use our services.
Peace of mind
Car Battery Australia is fully insured and all work guaranteed for complete customer satisfaction. Hence, why we have been in operation since 2001, and still growing strong today.
---
---
Keynote:
Cheaper imported generic car battery prices, tend to be more costly in the long run since you might have to replace the unit more frequently, and we all know what a great inconvenience that is to your daily routine, correct?
Fact: Century is the only battery made in Australia, for Australians. Don't be informed otherwise, use your due diligence and do your research. Remember, if it is not "Branded Century", it is not made here locally.
Here is a great resource we highly recommend on common frequently asked battery questions. (Opens in new window)
Next Page: Ultra High-Performance Battery